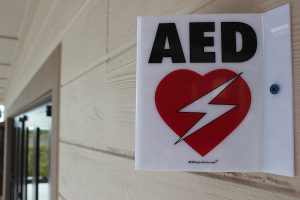 By Australian Institute of Health and Safety
WorkSafe Victoria is urging employers to consider installing automated external defibrillators (AEDs) and has recently published new guidance on their use in the workplace.
WorkSafe's guidance states that anyone with access to an AED can safely step in to handle a cardiac arrest crisis, knowing they cannot cause greater harm to the patient but may save their life.
All employers should think about how likely it was that someone will suffer a cardiac arrest in their workplace, said WorkSafe Victoria Health and Safety Executive Director Julie Nielsen.
"Very few people survive a cardiac arrest without swift assistance and the use of an AED might be the difference between life and death," Nielsen said.
"Anyone can use an AED. You do not need specialised training, but you do need access to one to save a life."
An estimated 19,000 AEDs are now installed in locations across Victoria, but many workplaces still do not have this life-saving device.
Ambulance Victoria attended 6434 cardiac arrests in 2017-18 and, of those, 82 patients were successfully defibrillated with a publicly available AED.
Death from cardiac arrest will happen within minutes if a person is not treated and cardiopulmonary resuscitation (CPR) and defibrillation are proven methods to restart a heart that stopped.
The latest AEDs use voice prompts and pictures to guide the operator on how to use them and when to stop, and even when to restart CPR.
Under Occupational Health and Safety legislation, employers have a responsibility to provide a safe and healthy environment for their workers.
WorkSafe wants all employers to consider whether having an AED would boost the welfare of their workers.
WorkSafe Victoria provided a number of tips for installing AEDs at a worksite:
Locate AEDs in well known, visible and accessible locations.
Ensure AEDs are properly set up and ready to use.
Do not keep AEDs locked away.
Register AEDs with Ambulance Victoria to enhance ease of access.
Demonstrate the use of AEDs to staff so they know how simple the process is.
Undertake routine maintenance checks.
Contact RME if you have a query regarding AED's or would like a quote.