If you're in Melbourne right now you're looking forward to reopening your business and wondering what our Covid management plans will need to include to ensure our compliance into stage 3 and beyond.  For other states RAMSOL products will definitely be a cost-effective and time benefiting addition to your existing Covid management. 
Regardless of your situation, high on your list of requirements will be sanitising & disinfecting your premises, equipment and assets, suitable for all industries including medical & hospitality the RAMSOL product range are hospital grade, kill Covid-19 and with water or ethanol-based options there is an application suitable for all uses. 
The foggers would be perfect for end of day sanitising as it's a set and forget product that will sanitise surfaces safely. If you've ever used a flea/insect bomb it really is that easy.   
The product range includes sprays & foggers in sizes from 250ml to 220L cannisters including large volume-based hand sanitiser stations, with a range of accessories including spray guns and trolleys etc.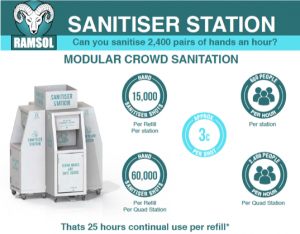 RS7 HOSPITAL GRADE DISINFECTANT SPRAY PRODUCTS – water based 
DOUBLE PROTECTION WITH ETHANOL & BIOCIDES 
RS5 ETHANOL BASED SANITISER SPRAY – 70% Ethanol 
500ML, 7LTR, 22LTR & 220LTR 
ALCOHOL HANDRUB 
ACCESSORIES 
To discuss your options contact RME on 1300 388 881 or Email sales@riskessentials.com.au  

Download Brochure